Thin film coating materials Si3N4 sputtering target
Our factory supply high quality Al2O3, SiO2, Si3N4, SiC, Nb2Ox, TiOx, ITO, AZO sputtering targets, as well as many other compound materials. As ceramic sputtering targets are very fragile with very bad thermal conductivity, so usually it will be bonded with copper backing plate by indium or elastomer, to prolong service time.
Sintering technology are used to produce ceramic sputtering targets, the shape can be round and rectangle.For round target,the diameter can be 1" to 14" , while thickness can be 3mm to 6.35mm, special size can be customized. For rectangle target, monolithic or several tiles construction will be supplied depending on the size.
| | |
| --- | --- |
| Product: | Si3N4 sputtering target |
| Purity: | 99.5% |
| Size: | customized |
| Shape: | Planar |
| Technology: | Powder Metallurgy |
| Packing: | Vacumm sealed, wooden case |
COMPANY PROFILE:
Since 2014
Specializing in high purity sputtering targets.
Leader manufacturer of sputtering materials in China.
Qualified the world certificates such as ISO9001:2008 and SGS.
Comprehensive in R&D, manufacturing, and sales on thin film materials.
Export to more than 15 countries in Europe, Southeast Asia, South America and areas, etc.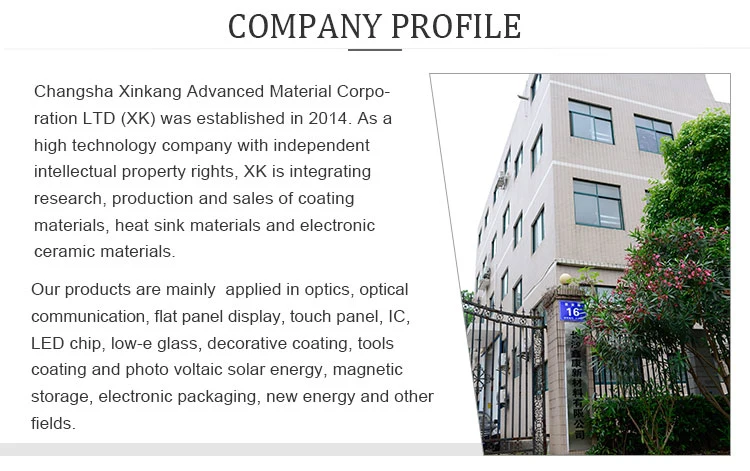 OUR PRODUCTS

*Metal Target : W, Mo, Ta, Nb, Cu, V, Ni, Ti, Fe, Al ,Zr, Co, Au, Ag, Pt, etc.

*Alloy Target : NiFe, NiCr, NiV, CuNi,TiAl, CoCr, CoFe, WTi, CoTaZr,CuInGa, ZnSn, CuZn, etc

*Ceramic Target : TiO2,Al2O3,Ta2O5, ZrO2,SiC,SiO,SiO2, ITO, GZO, AZO, WS2, MoS2,Ga2O3,HfO2,etc

*Evaporation Materials : Crucible, Pellets,Granules,Pieces,etc

*Backing Plate: Cu, Mo, SS,etc

*Bonding Service: Indium, Elastomer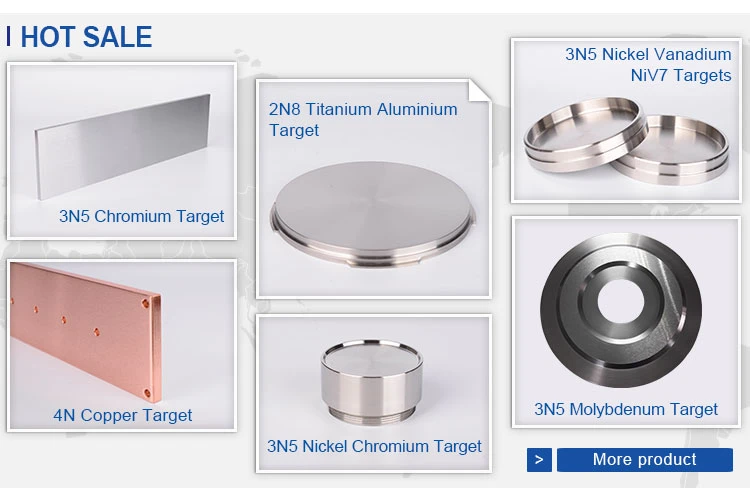 OUR ADVANTAGE

1,Many years manufacturing & exporting experience.

2 Strict & complete QC systerm

3,Perfect after sale systerm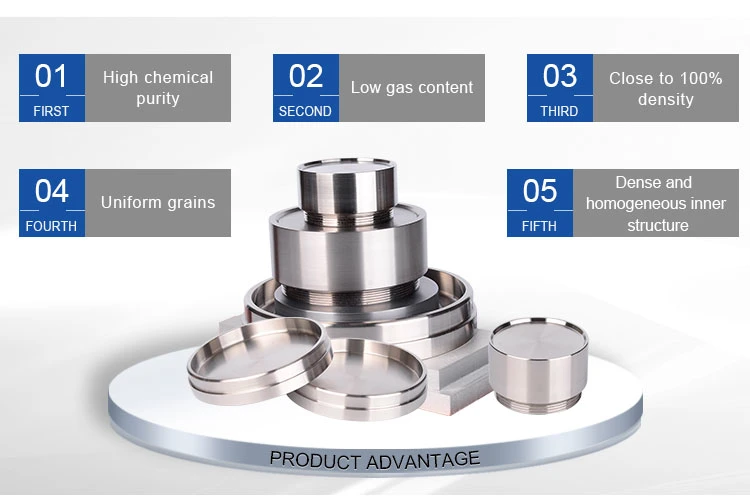 PRODUCTION PROCESS

Vacuum electron beam furnace, vacuum induction melting furnace, forging machine, rolling mill, oil press,

vacuum annealing furnace, numerical control lathe, numerical control milling machine, machining center,

grinding machine, wire cutting, numerical control water cutting, XRF, icp-oes, metallographic detector, etc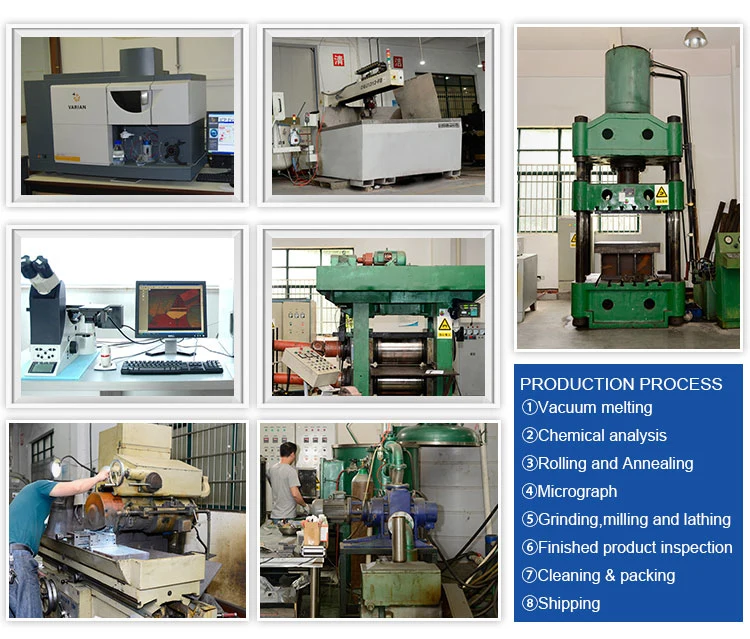 Our Quality Control System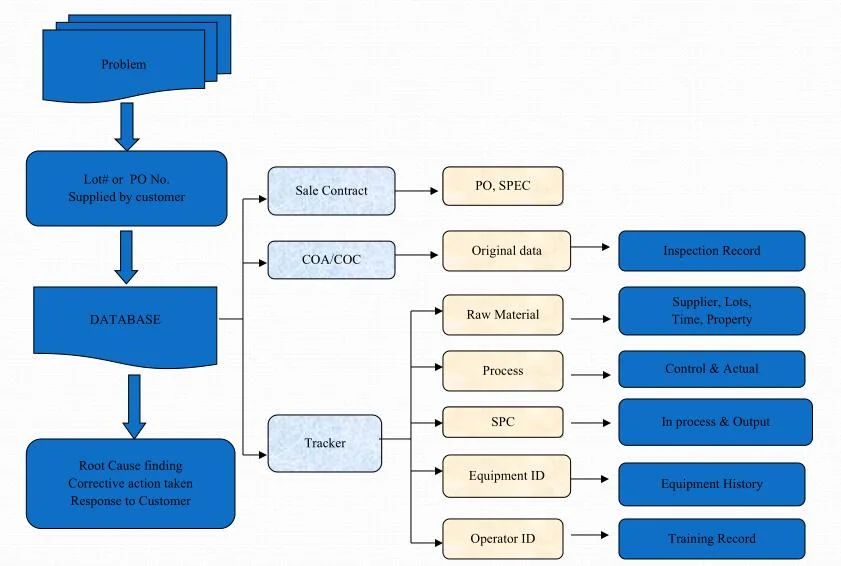 Our Certificates
1. We are an ISO9001 certified company.
2. We've been issued SGS Report.
3. We've been awarded as a High-Tech Enterprise.
4. We've been invested by the National Fund for High-end Equipment.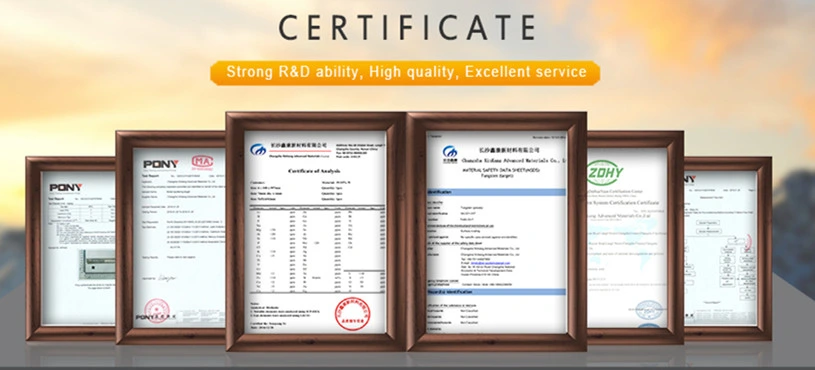 Our Exhibition
We have been attended exhibitions in Korea, Japan, USA, German, etc.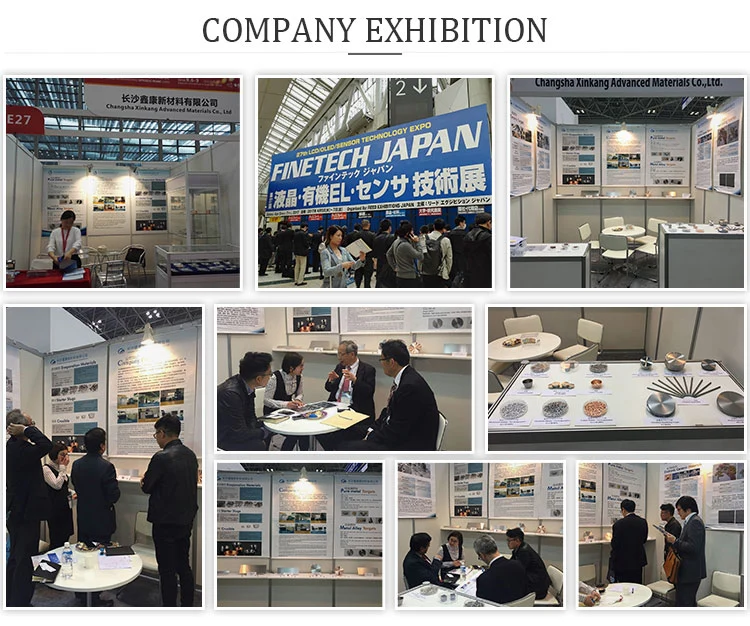 Application
Magnetic data storage/ Solar photovoltaic/ Glass coating

Semi-conductor/ Flat panel display/ Decoration coating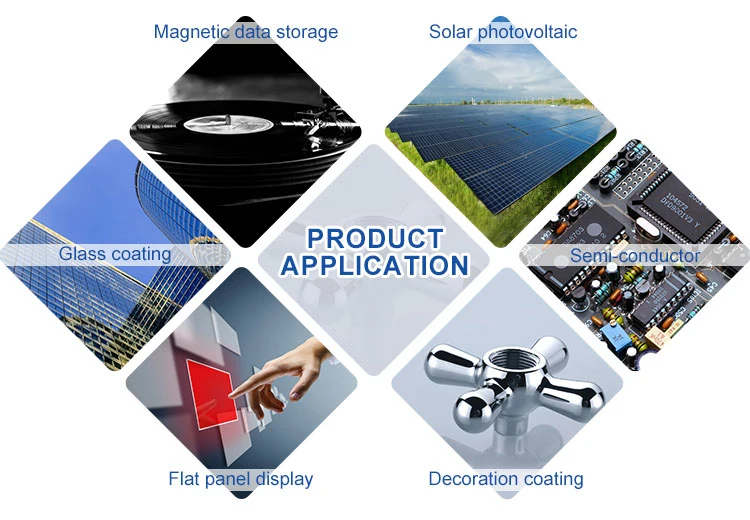 Our Products
We can also produce other metal sputtering targets, evaporation materials, crucibles, compound sputtering targets, etc.

We warmly welcome our dear customers from all around the world with OEM&ODM service.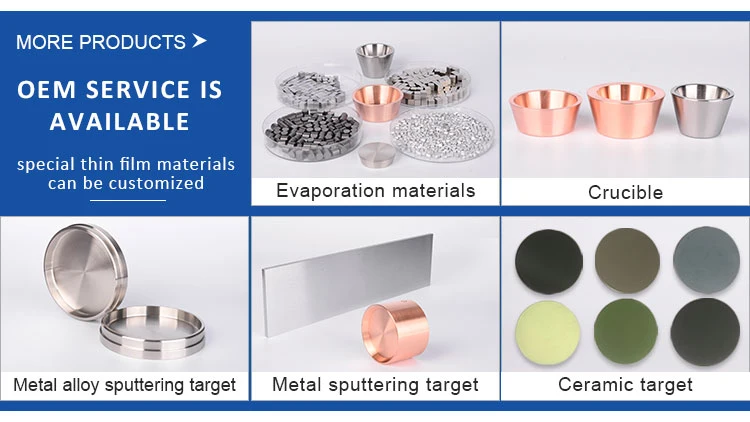 Our Team
1. We've been providing high-quality products & service for many years.
2. The factory covers an area of 2,000 square meter.
3. We have over 30 employees, including a group of experts in non-ferrous industry.
4. We have a professional team foreign trade.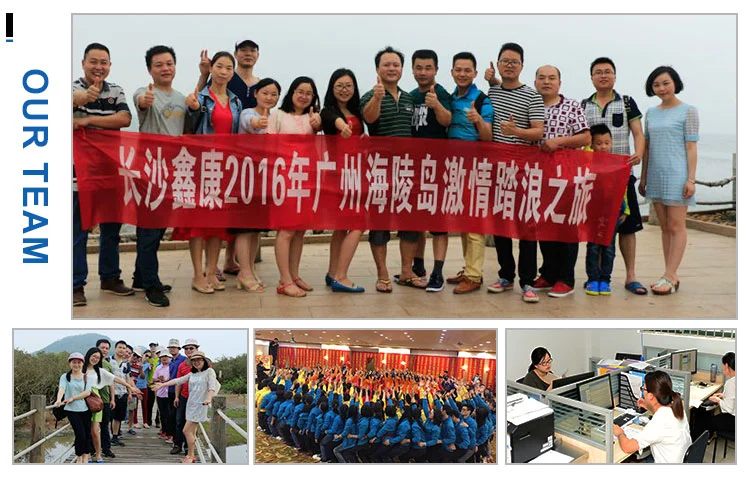 Contact Information


We will reply to you within 24 hours.